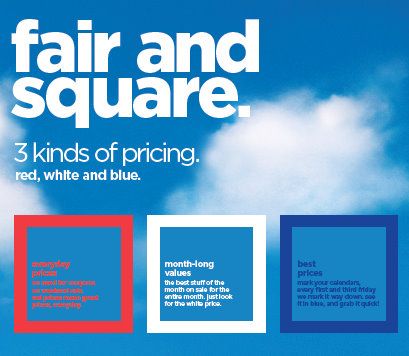 JC Penney moved away from a deep discounting strategy to an everyday low price strategy in January 2012. Revenues for its 1st quarter were down 20%, while its competitors have been stable. Consumers did not understand or see the benefit of the move. Here are some pricing strategy lessons to learn from this failure:
Perception of price, good or bad, relies on understanding the consumer benefit pricing brings, the problem it solves and its importance to the purchase decision.
Pricing is relative to the nearest competitor.
"Everyday low pricing" work best when the consumers believes they are getting the best deal (or the lowest price) rather than just a fair price.
Know Your Competition and Your Customer
JC Penney felt that everyday low prices would be seen as a better day-in and day-out value and that the simplicity of "good" value would be motivating to the consumer. They tried to emulate the Target approach, which has a fresh, quirky personality and isn't associated with deep discounting. JCP hired Michael Francis from Target as president in October 2011, and he was responsible for the new pricing approach. Target, however, competes more directly with Walmart, Kohl's, dollar stores, and offers a better selection and a much nicer store environment, while JC Penney competes more directly with Macy's and more upscale department stores. JC Penney may have misjudged who its competitors are - thinking they competed with Walmart, Target and Kohl's since those retailers are so big and there is a lot of cross shopping. They misjudged the department store consumer insight in this economy. Namely, department store shopping equates to fashion shopping, which equates to frivolous shopping which equates to guilt (at least in a bad economy). Huge discounts work to remove the guilt. Michael Francis ended up leaving JC Penney in mid June 2012.

Everyday Value isn't Exciting
Here is an example: Let's say Retailer J sells 10 items and each item would be $20.00 at full price. If it marks each down to an everyday low price of $15.00 - that is a good deal (25%off everything, all the time). Retailer M prices all items at $20.00 but one week of each month, marks 4 items to $12.00 (40% off) and marks one down to $8.00 (60%off). Retailer M beats retailer J on 5 items and one of those is a crazy deal that generates excitement. Retailer J's discounting is just as good overall, but not very exciting anymore. If Retailer M rotates the items which it puts on sale each week, then the bargain hunter believes she can eventually buy everything at a much bigger discount.

Everyday Low Price works when it means Everyday Lowest Price
The masters of Everyday low price are Walmart, Sam's, Costco, dollar stores. This strategy works for them because they are associated with being the "lowest price" everyday because of their size and clout with their vendors. But their quality and selection reflect this -- you don't go to Walmart to buy the most fashionable shoes or designer sweaters. Walmart knows their target shoppers -- the budget conscious value seekers.

Communicate the Benefit
JC Penney's "Fair and Square" strategy had a chance of success but missed the opportunity to link its pricing to a consumer benefit in its advertising. The advertising was funny and quirky with Ellen DeGeneres, but the message was too soft on price and selection. Meanwhile, its real competitor, Macy's, put its entire focus on incredibly deep discounts and hit hard with its message through high frequency direct mail circulars.
JC Penney may still get this right. They are working hard to come up with a new strategy. Let's hope the lessons learned give them the ability to carve a unique and sustainable position in the department store world.